ALREADY HAVE A PROJECT IN MIND? TELL US ABOUT IT!
The Right Kitchen. The Right Price.
Up to 40% less than home center prices!
Thinking about adding an Island to your kitchen?
What to think about when planning your new kitchen.
Read More >>
Countertops
Ask about our quality granite, quartz and marble countertop installation services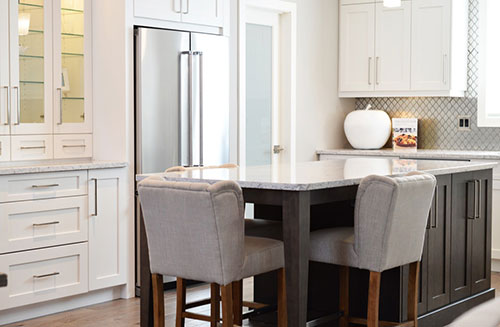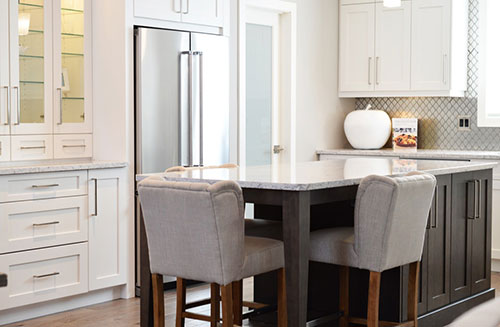 Visit Our Showroom
Our clients tell us our customer service exceeds their expectations, and they love being able to buy affordable kitchen cabinets. Whether you're planning a kitchen re-modeling or you're starting from scratch, the expert staff in our showroom can help make your next dream become a reality.
Find a cabinet that's right for you.
Your Dream Kitchen is 4 Easy Steps Away…
At Wood Cabinet Factory, we know remodeling a kitchen is an overwhelming and complicated experience. We turn your dream kitchen into reality at an unbelievable price in four simple steps. At each step, our friendly and professional team will advise you and listen to your needs. Let us start designing your kitchen for you today.
See what our customers are saying on Google
What a great experience from initial consultation, through design and right up through delivery. We couldn't be more pleased with the quality of construction of our new cabinets and quartz countertop and the level of service. Let me first…
The best. When we sent the measurements we asked you "Think out of the box". Jennifer mule did a spectacular design. It opened up our kitchen, gave us so much more storage space and more areas to work in. A few weeks after I placed the…
read more
Barry Butter was exactly the kind of person you want in your sales department. He was knowledgeable and efficient and quite accessible both by phone and email. Since our purchase was directly related to Hurricane Sandy and only one of the…
read more
Our sale assistant was there working overtime with me. He was very patient until i was able to get the design down just the way I wanted it. Maria made suggestions I mulled them over and then we looked at all the options before making any further changes to the design.
read more