The three typical types of kitchen cabinet moldings that our clients consider are crown, light rail and toe-kick.
They usually come in pieces 96″ long and in a large variety of designs, shapes and widths.
1. Crown
By far the most complex of the three general types of moldings, crown moldings are optionally mounted on the tops of the wall cabinets and are most often a total height of between 2″ and 6″. The taller crown moldings (e.g. 6″ height) are custom designed with multiple pieces and are installed to suit your kitchen. One nice classic design incorporates 36″ high wall cabinets and 6″ of crown molding that reaches an 8' high ceiling. If you have 8′ high ceilings and choose to go with 30″ high wall cabinets, you can still add crown moldings to the wall cabinets. In that case you leave space above the cabinet/crown combination.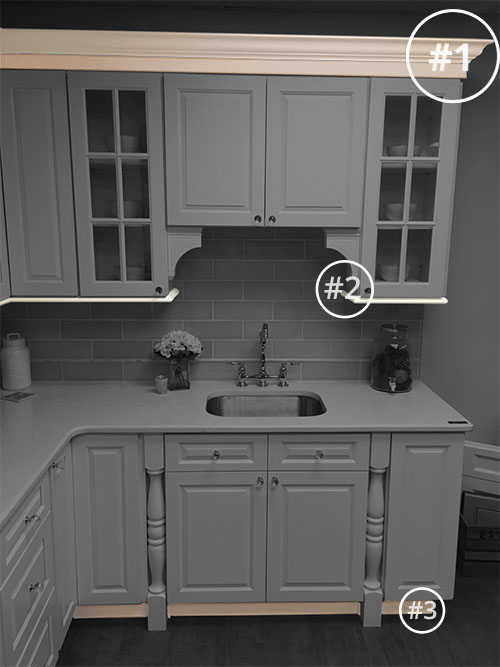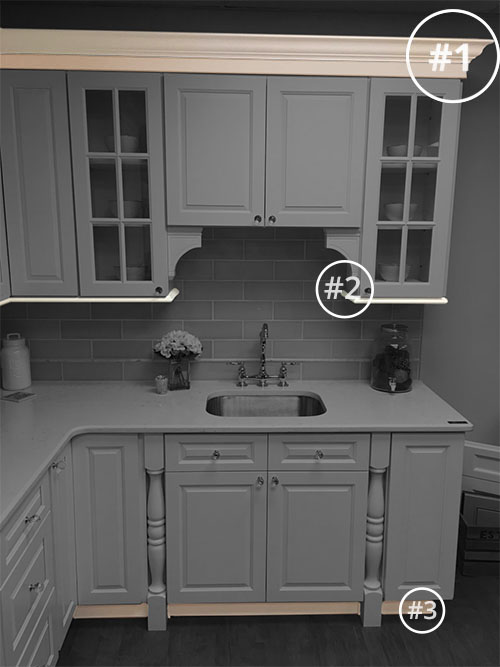 2. Light Rail
This molding is installed on the bottom of the wall cabinets. It adds a more finished customized look to your kitchen and helps hide the under-cabinet lights that we suggest you install when you remodel your kitchen.
3. Toe-Kick
We HIGHLY recommend toe kick molding for all kitchen cabinet installations. It is mounted on the front and bottom of the base cabinets. Toe-kick moldings hide the shims usually placed under the base cabinets that provide a level countertop surface as well as the separation joints between adjacent base cabinets.
In addition to the basic categories above there are also many other specialty moldings your designer may recommend depending on your kitchen design. They may be placed on the outside corners of your kitchen island to hide a necessary, but unusual, joint between two cabinets or in other special situations.
When you look at your favorite kitchen cabinet pictures, look closely at the moldings. Crown moldings in particular, both their design and installation, often make the difference between a nice kitchen and a drop-dead good looking kitchen.
Want to see what your dream kitchen looks like?
Our in-house designers can mock-up your brand new kitchen along with a detailed quote, so you know exactly what your favorite cabinets will look like in your home before you spend a dime.