There are four types of kitchen cabinets that you are likely to consider when planning your new kitchen.
The four basic categories are Base, Wall, Tall and Specialty
Base
Base cabinets are usually located below the countertop. Most often they are 24″ deep and 34.5″ tall. They come in a large variety of widths. Base cabinets that are located under the sink area are called Sink Bases. Sink Bases also come in a variety of widths and there are special ones if you want to locate your sink in the corner of the kitchen. If the base cabinet has all drawers and no doors in it is called a Drawer Base.
Wall
Wall cabinets are most often located with their bottoms 18" above the countertop. Most commonly they can be purchased with heights of 30″, 36″, or 42″, and 12″ in depth. Similar to base cabinets they also come in a large variety of widths. Special wall cabinets are often located above the refrigerator and depending on your preference may also be much deeper than the other wall cabinets. For homes with 8' high ceilings, one popular design is to use 36″ high wall cabinets and then add crown molding from the top to the ceiling.
Tall
Tall cabinets usually go from the floor to the same height as the top of the wall cabinets. They are most often used for pantries to store food and cleaning supplies and for wall mounted single or double ovens. They are typically 24″ deep.
Specialty
Specialty cabinets include special base, wall and tall cabinets not discussed above but may also include wine racks, stove hoods, corner lazy susans, and spice pull-outs just to name a few. If you see a picture of an unusual cabinet, we can probably custom build it for you.
All four types of cabinets can be customized to add or subtract depth or to add customized storage options such as sliding pantry drawers.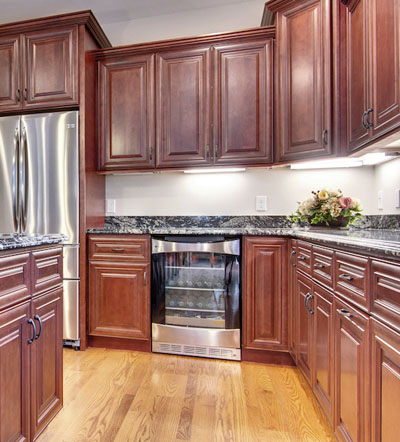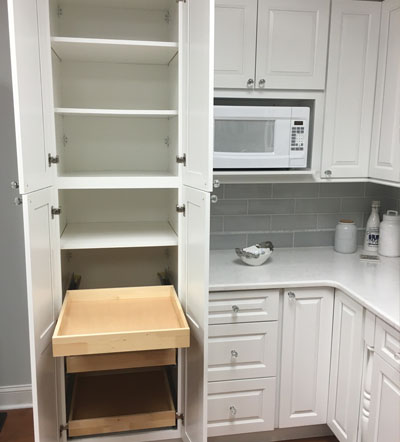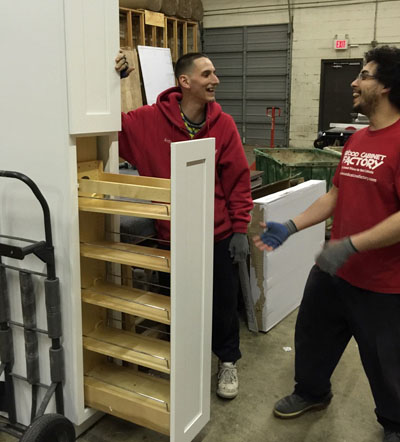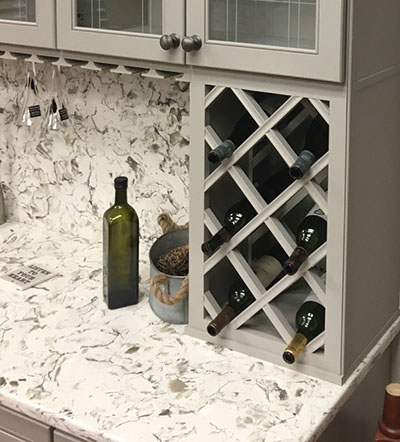 Want to see what your dream kitchen looks like?
Our in-house designers can mock-up your brand new kitchen along with a detailed quote, so you know exactly what your favorite cabinets will look like in your home before you spend a dime.