Choosing the right kitchen cabinets is a big decision – especially since the cabinets you choose will be in your home for decades to come. To help you pick the right kitchen cabinets, we put together a quick list of four factors to consider when making your decision: Style, Color, Construction, and Customization.
1. Style of Cabinet Door
When considering what style of cabinet door you want, think about your personal preferences – but also about how the rest of your house is designed and decorated. Do you have a traditional colonial, a modern city loft or something in between? Is your house at the shore or in a suburban development? What is the style of your furniture? Kitchens, especially in open floor plans, need to coordinate with adjacent spaces.
For example, a shaker cabinet (with a recessed center panel) has a contemporary timeless look, which can be customized to look good with both a modern decor and a transitionally styled home.
A raised center panel (as opposed to recessed) will add a more traditional feel to the kitchen, but can look "transitional" if paired with the right countertops/appliances.
2. Color
As with the style of the door, the first thing to take in consideration is your personal preferences. While natural light is something to consider, don't be too concerned – there are many lighting fixtures and countertop choices that can make your cabinet color look great no matter how much natural light you have. Again, it's about the overall look and feel your are trying to achieve and how the adjacent rooms are decorated.
"Light colors" are usually white, off-white, or cream colored, but also include lighter grays.
"Medium colors" usually highlight the natural color of the wood.
"Dark colors" include dark brown, cherry, and espresso finishes.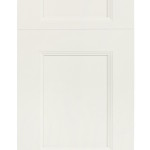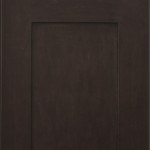 3. Construction – Quality that Makes Sense
This is an important one. Quality kitchen cabinets are an investment that should last for years to come, so knowing what to look for is critical to making the right decision.
The cabinet box (the sides, top, bottom, and back of the cabinet) should be made of plywood, and NOT particle board.
Cabinet doors should be made out of solid wood as well, however painted doors may include engineered wood to help the painted door surface deal with expansion at certain levels of humidity. Talk to your kitchen designer about why there are often engineered wood components in painted cabinet doors. Sometimes engineered wood is used to save money – so it's not always dealing with expansion. Most importantly – understand what you are buying and the benefits offered.
When looking at drawers, look for dovetail joints! Staples are often used to put drawers together, but these drawers fall apart easily – so make sure you go with dovetail joints. Also, higher-quality drawers are "full extension" (opens all the way) rather than opening just 3/4ths of the way. They should also include a soft-closing mechanism.
Lastly, make sure all shelves are at least 1/2" thick plywood, and NEVER particle board.
4. Customization – Making it Work for You
Once you've selected a quality cabinet set in the color and style of your choosing, its time to customize based on both aesthetic factors and the functionality you're looking for.
Aesthetically, moldings for the cabinet "crown" make a huge difference. There are many possibilities that can really help drive style and the customized look you want. Moldings can also be used to help hide under counter lights.
In addition to moldings, decor doors make the sides of cabinets or islands look customized and finished. Look at your favorite inspiration picture: what do the cabinet sides look like?
Handles and pulls also help drive style and look. Think about the pull material, color, shape and size. Look for pictures of kitchens you like and look at the kitchen showroom variations. Consider buying a few different style pulls to try in your kitchen before your installer drills holes in the cabinet and DEFINITELY think about where you want them placed on the cabinet. You can also mix styles and placements.
As far as functionality goes, size matters – wall cabinets come in 30", 36", and 42" options for better made cabinets. Don't settle for some odd size wall cabinets. 36" is the most common and allow enough room for nice crown molding even with 8 foot high ceilings.
Accessories – such as garbage and recycling centers, drawer/cabinet organizers, spice racks, and wine racks can really make for efficient and clutter-free storage.
Ready for your dream kitchen?
We hope this guide helps inform your kitchen cabinet decision! If you're ready to start looking at kitchen cabinets, or need any more information, please give us a call at (973) 244-9933, or come visit our showroom at 311 US Highway 46 Fairfield, NJ 07004!