2015 Kitchen Styles and Trends
As 2015 comes to a close, we'd like to look at the past year's trends for cabinets and countertops. In this blog post, we'll briefly examine color trends, style trends, and countertop & cabinet combinations.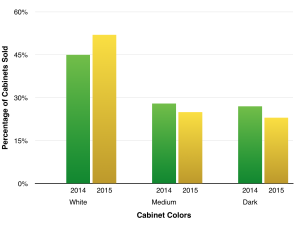 White Is… The New White?
Unsurprisingly, white kitchen cabinets are still by far the most popular cabinets we sell here at Wood Cabinet Factory, with 52% of cabinets sold in 2015 being white/cream. America has spoken, and white, neutral kitchens are IN. This isn't a big change from last year, according to a study published by remodeling and design experts Houzz in 2014. The study reports that 49% of Americans remodeling their homes in 2014 purchased white kitchen cabinets and drawers (compared to our 2014 numbers, in which 45% of sales were white/cream cabinets).
The Rise of the Shaker
While raised panel doors remain the king of cabinets, with our White Raised Panel Cabinets being #1, the Shaker style of kitchen cabinetry is rapidly gaining popularity around the United States and Europe. In fact, our 2nd most popular cabinet in 2015 was the Ice White Shaker cabinet, reflecting both the white color trend and the shaker style trend. Shaker-style cabinets feature simple yet elegant stile-and-rail recessed door panels, wish simple outside edge detail. Because of this simplicity, they're adaptable into almost any style of kitchen.
When It All Comes Together
The hardest part of designing a kitchen is taking the individual elements you love and putting them together in one cohesive picture. You may be fond of a certain countertop and certain cabinets, but when the two come together – they just clash. This is perhaps one of the reasons the white cabinets are so popular – they're versatile enough to match with so many combinations of countertops and appliances. In fact, our designers say that there's a three way tie between light, medium, and dark countertops with white cabinets.
Our Prediction for the Best Selling Cabinet of 2016: Raised Panel White
Want to see what your dream kitchen looks like?
Our in-house designers can mock-up your brand new kitchen along with a detailed quote, so you know exactly what your favorite cabinets will look like in your home before you spend a dime.